How To
Start A Blog From Scratch
How to start a blog – Blogging 101
A Beginners Guide to Blogging
‍Now that social media has given a voice to everyone with an internet connection, the world is changing faster than ever. Keeping up with these changes can be challenging, especially for businesses.
Working online and blogging are perfect ways to keep your business relevant in this fast-paced digital world. If you're not quite sure what blogging is or how it could help you and your business, read on, and learn how to start a blog in 2022.
This blogging 101 guide will explain everything you need to know about starting your own blog and the benefits.
Is tech making lottie's worse?
Are you worried that technology is making Lottie animations worse? Don't be! Let's explore why 👇

1/ Lottie animations are vector-based animations that can be exported from Adobe After Effects. They're lightweight, scalable, and look amazing on all devices. The technology that powers Lottie animations is constantly evolving, making them better and more efficient than ever before.

2/ With advancements in technology, Lottie animations are now supported on all major platforms, including Android, iOS, and the web. This means that your animations will look great on any device, giving your users a seamless experience across all platforms.

3/ The Lottie library is constantly expanding, with new animations being added all the time. This means that even if you don't have the skills to create your own animations, you can still add stunning animations to your app or website with ease.

4/ Plugins like Bodymovin enable you to export Lottie animations directly from Adobe After Effects. This makes it easy for designers to create animations in their favorite design tool and export them for use in their projects.

5/ So, to answer the question – no, technology is not making Lottie animations worse. In fact, it's making them better and more accessible than ever before. If you haven't already, give Lottie animations a try and see the difference they can make in your projects! 🚀
Starting a blog can be an exciting and rewarding experience!
Not only can you share your knowledge and ideas with the world, but you can also connect with people from all over the world and potentially make money from it too.
First, you need to decide on a niche. This is the topic you will focus on in your blog. Once you have a topic in mind, you need to come up with a catchy name for your blog. Then you can choose a platform – like WordPress or Blogger – and get started.
Next, you'll need to design your blog. You can either choose a basic template or design your own. Once it's designed, you can start writing and publishing content. Be sure to optimize your posts for search engines by using relevant keywords and phrases.
Finally, you need to promote your blog and build an audience. You can do this by engaging with your readers, sharing your posts on social media, and guest posting on other blogs. With some hard work and dedication, you can build a successful blog and reach your goals!

What is Blogging?
In its most basic form, blogging is a method of publishing content online – usually on a blog site hosted on your own website. Blogging is a great way for businesses to showcase their expertise and share their knowledge with others.
When you blog, you're creating online content that's connected to your business. This content can take the form of written posts, images, videos, podcasts, or podcasts. It's often accessible through a URL or web address. The focus of blogging is to generate traffic to your website.
When people visit your blog, they'll often be looking for information. If they find what they're looking for, they're likely to click on links to your website or contact you directly with questions.
If your blog is linked to social media channels, it can also be a great way to increase your follower base.

Why Start a Blog?
For bloggers, blogging is an opportunity to share their expertise and engage with their target audience. For businesses, blogging is a perfect opportunity to showcase the expertise of employees, educate potential and current customers, and add value to your product or service.
When customers and potential customers are looking for information about the things that matter to them most, you can be sure that blogs will play a role in the process. Blogging is the perfect way to get your name and your brand in front of your target audience and show them what you have to offer.
With a blog, you can build trust and credibility with your readers. You can also get in front of people who are specifically interested in what you have to say, as opposed to people who may not be interested in your business at all. Blogging can also help you to create a reputation as an industry leader.
If you have something important to say or a helpful piece of advice to share, blogging can be a great way to spread that message. Still want to know how to start a blog?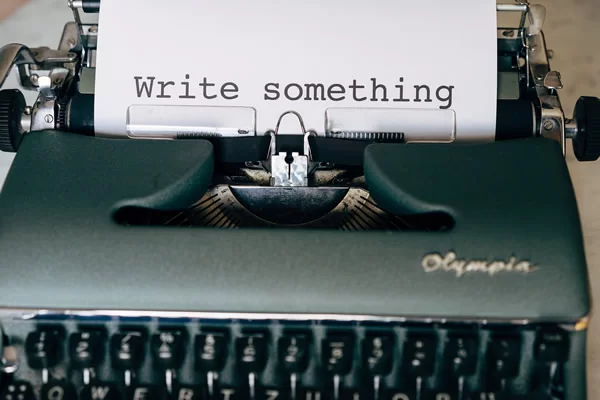 How to Start a Blog
There are a few things you'll need to get started in order to publish your own blog: A blog site: A place to publish your content.
A blog platform: The software behind your blog. (Often WordPress)
A topic: The subject you'll be covering in your blog posts. (What you are passionate about)
A plan for publishing: A regular schedule for publishing blog posts. (Think weekly or daily)
Other necessary tools: Images, graphics, and video.

The Benefits of Blogging for Businesses
The blogging trend is expected to continue to grow throughout 2022/23, maybe even more so than social media. There are several benefits to be gained from blogging, which include: – Visibility: Being searchable on search engines like Google and Bing is important for any website – especially a company website.
Blog posts rank well in search engines and can help improve your website's visibility and lead generation. – Lead-generation: Blog posts can be used as lead magnets and bring in potential customers who are interested in your brand.
Content: Blogging can help you get your content strategy on track and create more engaging content for your website.
Branding: Blogging can help you connect with your audience and boost your brand awareness and visibility.
Community: Blogging can help you foster a community around your brand by including comments on your posts and engaging with your audience.

4 Commonly Asked Questions about Blogging
What topics should I blog about? Any topic that is important to your customers is fair game for blogging. If there's something you know a lot about, or that your customers would find helpful, or interesting, start a blog about it!
What should my blog look like? Your blog should look the way you want it to look. There are no strict rules when it comes to blogging, or starting a blog, just get started sooner rather than later. You can choose a theme (aka design) to fit your brand and publish content that is helpful and informative.
How often should I publish blog posts? This is up to you! You can publish as often or as little as you'd like. Some successful bloggers publish a post each week, while others publish once a month.
What tools do I need to blog? You'll need a website or blog to publish your posts, hosting space for your website, a blogging platform, and content. Other helpful tools include an image editor, social media apps, and an email marketing tool.

Key Takeaway
Blogging is an excellent way to expand your business reach and attract new customers. It has been around for a long time and shows no signs of slowing down. In fact, it is expected that blogging will grow even more in 2023 and 2024.
If you aren't blogging yet, now is the time to start. With the right tools and strategies in place, you can build a loyal following and generate new business in no time.
HOW TO USE YOUR BLOG
How to use your blog to improve your business
Businesses are starting to realise that blogging can make a difference in their marketing.
online marketing for business
How to Use Your Blog to Improve Your Business
Did you know that 80% of businesses see blog content as a useful way to market their business? And that 85% view blog content as an opportunity for brand awareness, lead generation, and SEO benefits. So everyone should learn how to write a blog.

What is a blog?
A blog is a website where you regularly publish articles and content related to your business. The purpose of these posts is to inform, educate, and/or entertain your readers, while also driving traffic back to your website or sales page.
In other words, a blog is a great place to put all of your best marketing and business-building strategies in one place so that your target audience can easily find them when they're ready to buy from you.

Why are blogs effective for businesses?
Don't think, how to start a blog, just start. Blogs have proven to be a successful source for lead generation and brand awareness, resulting in a ton of benefits for businesses of all types and sizes. Here are just a few of the many reasons why starting a blog is a smart move if you want to improve your business.
Blogs are a great way to increase brand awareness – New customers often use search engines to find products and services they need, and blogging is a great way to get your company name out there and into the hands of potential clients who are actively looking for what you have to offer.

Blogs Can Drive Leads
Blogs help drive more leads to your business – A blog gives you a chance to position yourself as an authority in your industry and share insights that are helpful to your readers.
Using your blog to provide valuable information on a consistent basis will encourage readers to trust you, which is the first step toward getting them to do business with you.
Blogs help you create a positive reputation – Learn how to start a blog, as it's a great way to show off your expertise without being boastful or pushy. You have a chance to be yourself and let your readers get to know you a little better, and in the process, they'll get to know what you're all about.
Blogs give you an opportunity to show off your company culture – Your blog can also be a great place to showcase the people behind your business. – Blogs give you a chance to show off your products and services – Your blog is a great place to write product reviews and make sales, too. By hosting these kinds of posts on your blog, you're giving readers the chance to get to know your products and what they can do for them better.

HOW TO START A BLOG FOR BUSINESS
If you're ready to start blogging and taking advantage of all of the benefits that come with it
Here are a few things to keep in mind: – Find a niche and stick to it.
How to start a blog business
You don't have to be an expert in every single topic that comes up in your industry, but you do want to stay focused and choose one or two topics that you're passionate about and know a lot about.
Focus on creating content that people want to read – You want to make sure that your blog is interesting, engaging, and helpful to your readers.
Choose topics that are relevant to your target audience, and avoid focusing on things that only interest you.
Post on a regular basis. Regular blogging is important because it shows your readers that you're serious about your business and that you're not going anywhere.

Blogging best practices for small businesses
Once you have mastered how to start a blog, start with a plan – Before you jump into your first blog post, make sure you have a plan for your blog in place. This includes everything from your blogging goals to your target audience, blogging topics, and how often you'll publish content.
Get the right tools – You don't need a lot of fancy equipment to run a successful blog, but you do want to make sure you have the right tools for the job. Things like website hosting, content management systems, and analytics software can all help you along the way.
Test and be patient – Blogging is a numbers game. You can't expect to get thousands of new customers tomorrow just because you started a blog. Give yourself some time, and test out different blogging strategies to see what works best for your industry.

BLOG CONTENT ON SOCIAL MEDIA
Once you have learned how to start blogging, adapt all your blog posts to your social media channels
Just re-write different sections of your blog to make them unique.
A great trick to use once you have learned how to start a blog, and have written your first blog post, is to use it for your social media posts.
Simply take a different section from your blog post and use it for each of your social media posts.
Make sure you use a unique post for all your social sites, such as Facebook, Twitter, Instagram, LinkedIn and Pinterest, your Google My Business page and any others you are using.

Bottom line
Blogs are a great way to get your business in front of customers without being pushy. Customers aren't interested in being sold to, but they are interested in learning about products and services they need.
By creating regular blog posts, you have a chance to build trust with your readers and drive them back to your website when they're ready to make a purchase.
How much does it cost to start a blog? How to start a blog with no money? You can start a blog with no money, just some time setting it all up.
Let's Recap
A blog is a web page on which you regularly post short articles about a particular topic. You can use blogs for a variety of purposes, including online journaling, sharing interesting information, promoting your business and more.
In order to be successful, a blog must have clear goals and content. It should also be easy to navigate and have an attractive design. Furthermore, a blog with a large following will likely attract more visitors and build your brand.
While there are many factors that affect the success of a blog, these are some of the most important.
-Writing Quality
-Relevance
-Engagement

– Writing quality: Your posts must be well-written and engaging to keep people reading.
– Relevance: Keep your content relevant to your audience by staying focused on the topic.
– Engagement: Encourage your readers to leave comments, share your posts and subscribe to your email updates if you want them to stay engaged.
Want to start blogging? Get in touch with us today.