Web Hosting services
Web Hosting UK Based
Website hosting & multi hosting plans available.
Save 25% on our Web Hosting Plans for June 2023.
Just for this month, June 2023
We are offering a £30 web hosting discount on our fully featured hosting. Pay £90 instead of the usual £120.

Not only that, we will transfer your website over to us free of charge!

This will be a seamless transfer, and we set everything up, including your email accounts. Free SSL & Nightly Backups.
Claim your web hosting Discount before the timer hits zero✨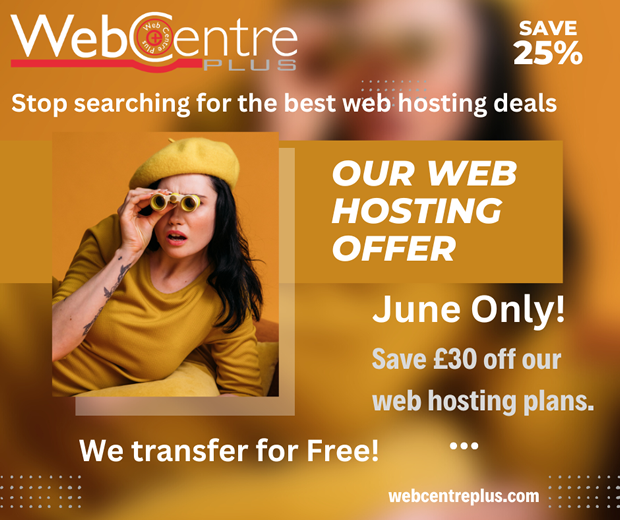 Are you tired of slow web hosting and slow support?
Is it time for a change?
Let us help you transfer your website to Web Centre Plus for a better hosting experience and claim your web hosting discount.
Here's how we can make the process easy for you.
We'll take care of the actual transfer process for you! We'll handle the migration of your website files, databases, and any other necessary components.
Our team of experts will ensure that everything is properly configured and functioning correctly on the new web hosting discount service.
Finally, we'll do thorough testing of your website on your new hosting package to make sure everything is running smoothly.
And the best part? You won't have to lift a finger! We'll take care of everything from start to finish.
Don't let slow hosting, slow support, or downtime hold your website back. Let us help you make the switch to a better web hosting service today!
Providing web hosting since March 2000
Contact us
Let us take care of your Hosting needs
As a long-standing Web Hosting UK company, you can be sure our service has stood the test of time, and our servers only use the latest technology.
Every day from
9:00 – 5:00
call to ask a question
01775 739 126