It's not about ideas – It's about making ideas happen!
Welcome to our Web Design Agency:
– Want your website to function better? Need a better support service?
– Not on page one in Google?
– Lacking in the social media field?
We can help!
Just some of our work & reviews
Our Only ambition is to help & improve your online business.
what can we do for your Business?
Reviews from Google, Trustpilot and others
Some of the businesses using our services 👇
Getting Your Brand Noticed
Writing & Designing
Creating fresh social media posts each time.
Regular Posting
We can post daily, weekly, or whatever suits you.
Unique Content
We write different text for each social media channel.
Images & Video
A mixture of posts with images & video posts.
Trust us to make a difference
You have a busy schedule, so let us help you achieve your goals with our website, hosting & marketing services.
Experienced Web Design Agency
We aren't new here!
Our experience goes back to the '90s. I started with managing & marketing websites, building websites, and then by March 2000 we were running our own web hosting company based in London's Docklands.
We have developed over the years and began writing for various blogs 3 years ago & creating social media campaigns for a variety of clients.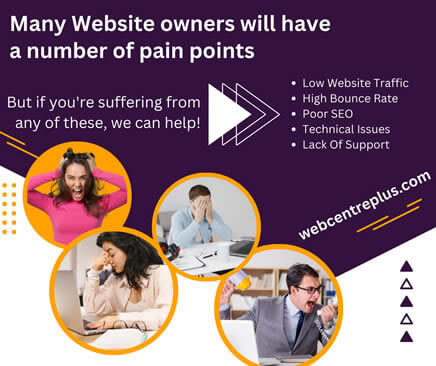 Web Centre Plus – Creative Web Design Agency
Improving Websites
We can improve your current website, add new pages and enhance functionality.
Web Hosting
If your website is slow, and suffering from a lack of support, we can help.
Digital Marketing
Comprehensive marketing plans or a one-off, whatever your business needs, we can help.
Why We Love Improving Business (And You Should, Too!)
As soon as a website goes live, it should be introduced to every media possible, search engines, social media channels and anywhere else you can post it.
Problem:
Many websites get built and that's it, done, finished!
These business owners rarely see anything positive coming from their website, apart from – Hey! Look at our new website.
Solved:
We provide Keyword Research and Optimisation, and publish your website all over the Internet, including a month of Social Media Posts. Result: A ROI!
Special Offers: One of the things our web design agency likes to do from time to time is to offer a low-cost website design solution to new startup businesses.
So it's worth keeping in touch and following us on our various social media channels, as new offers and promotions can be found there.
Let Our Web Design Agency Take Care Of Your Website Requirements
Our web design agency can create a user-friendly website and implement SEO strategies to help you rank higher in search engine results.
We can assist in creating original and unique content and optimizing it for maximum engagement, including blog content and social media content.
Emails Are Monitored every day from
8:00 am to 8:00 pm
Call to Find Out More About How We Can Help
01775 739 126